Keep on the Shadowfell
Kobold Lair Outside
Setup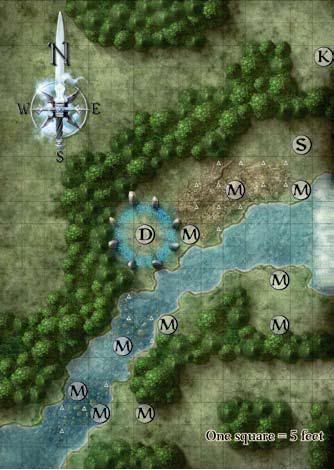 If the adventurers have decided to search for the kobold lair and dispense with the kobolds once and for all (either of their own accord, as hirelings of Lord Padraig, or by following Ninaran's false tip on the cult), they make their way southeast to the lair (see the map on page 4). This encounter and the following one use the Forest Cliff Lair poster map.
Place the PCs in the clearing on the left-hand edge of the map; from this point they might choose to make Stealth checks to approach the kobold lair and gain surprise, or they can simply attack.
This encounter includes the following creatures.
1 kobold slink (K)
10 kobold minions (M)
1 kobold dragonshield (D)
1 kobold slinger (S)
As the PCs enter the area, read:
Small glades of trees lead up to a cliffside waterfall, where a stream tumbles from the top of a rocky overhang. The water descends the side of the hill and flows away to the southwest.
Perception Check
DC 13

The sound of many voices is just audible over the din of the waterfall.
DC 15

Several kobolds are visible through the trees.
Do not place the kobolds on the map unless the character succeeds on a DC 15 Perception check, enabling them to notice the creatures. Reveal only the section of the map that shows the area outside the cave.
The kobolds notice the PCs if the characters fail a DC 12 Stealth check. When that happens, roll initiative. If the PCs choose not to use stealth, the kobolds become aware of the characters after they make their first moves. The trees do not block line of sight but do provide cover (+2 AC).
Treasure: If the PCs defeat the kobold guards, they find a total of 4 gp and 17 sp.
If the situation looks dire, the slinger shrieks,
"Iron-tooth must be warned!"
and runs into the lair to alert those within. If the PCs are unable to kill the kobold before it enters the lair, the slinger succeeds at warning the kobolds inside. This means that the first wave of kobo-lds inside the lair is ready when the PCs enter the cave.
PC's go back to Winterhaven
PC's go inside Kobold Lair